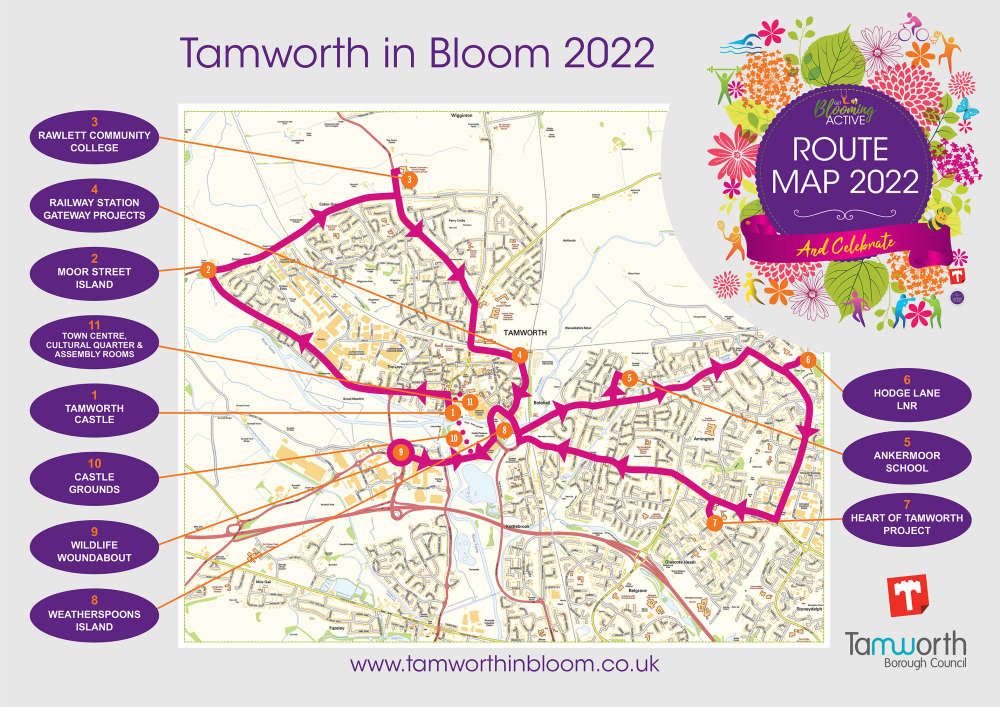 Bloom judges to enjoy a new route in their tour of the borough. Showcasing new projects and planting areas Aiming for gold accolade
A year of hard work, planning and planting will soon reach its climax when the Heart of England in Bloom judges take a tour of the borough on Tuesday July 12.
Residents are being encouraged to get involved with making the whole of Tamworth look beautiful to help the borough take gold, in the regional Heart of England in Bloom campaign.
The two judges – Nicola Clarke and Helen Betts - will be taken around Tamworth, where they will be shown some of the many fabulous floral displays and community projects which make up this year's Tamworth in Bloom entry, on the theme 'Get Blooming Active Tamworth - and celebrate!'
This year's campaign sees Tamworth in Bloom involving sports and games; community and environment groups; recycling projects; forest school projects; Dementia Friendly groups; a world record tap dancing initiative; plus celebrates the two exciting events of the year– The Queen's Platinum Jubilee and the Commonwealth Games 2022.
Work this year also continues the exciting project that was started early 2020, involving new planting and focus on developing a brighter, more beautiful space in areas that are not usually included in the Tamworth in Bloom judging route.
Councillor Rob Pritchard, Deputy Leader of Tamworth Borough Council, said: "Tamworth is beautiful, and it's fantastic to showcase our stunning borough, helping us take a significant step towards our community's pandemic recovery.
"As a council we are working continuously towards building our partnerships with our voluntary organisations and residents to ensure we protect and care for our environment as well as our beautiful parks, nature reserves and open spaces.
"Tamworth in Bloom is never just about the floral displays, but it focuses on our community, schools and volunteers, who all work exceptionally hard to portray Tamworth at its best and support the welfare of our most vulnerable."
Remember, Tamworth Borough Council are running a resident garden competition running during the 'in Bloom' campaign. The closing date for entries is 12 noon on Friday, July 29. To enter just take a picture of your garden and email it to Garden Competition at communications@tamworth.gov.uk.