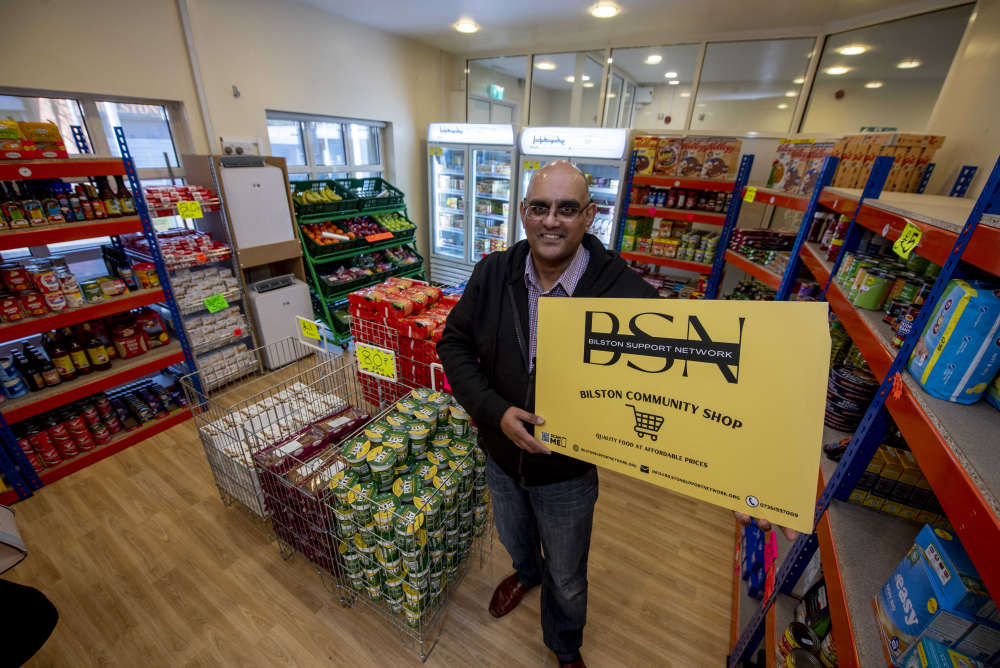 John Raj, manager of Bilston community shop.
Wolverhampton households could save up to £7 million a year by using the rapidly growing network of community shops across the city to slash their food bills.
Shoppers can save on average £30 a week on groceries by using the community shops instead of major supermarkets. A recent comparison showed a basket of products providing a week's worth of meals for two people currently costs £28.80 at the community shop, compared to £63.16 at two large supermarkets.
The Council helped create the shops with an initial investment and provides ongoing support, even though two of the shops are already nearing financial independence.
With national news this week showing grocery price inflation has hit a record 16.7 per cent, adding a potential £788 to annual shopping bills, there's even more reason to check out your nearest community shop.
Leader of the City of Wolverhampton Council, Councillor Ian Brookfield, said there were big savings to be made and encouraged residents to try them out to help their money go further:
"These shops are for everyone who lives in Wolverhampton and the membership is growing rapidly, with 4,500 at the last count.
"We invested in these shops with time and money, as we believe they really do offer a way for people to do the best for their families in these difficult times. They also help our local economy, which helps everyone in the City in the long-term, and they help reduce food waste.
"It's a way to make your money go further and keep your head held high, knowing you're doing the right thing for your family in these very hard times. This is just one of the many ways, as a Council, that we're trying to help our citizens get through the cost of living crisis."
One of the largest shops is Bilston community shop, run by manager John Raj. He is regularly inundated with customers who are often already queueing outside ready for him to open on Tuesdays, Wednesdays and Fridays.
"We've had an amazing response from the community since opening our doors in the Strengthening Families Hub in September. We've already got 845 members and it's growing rapidly by the day," said John.
'"t's not just about giving people the opportunity to have autonomy around managing their budgets. Our customers can also get a wide variety of foods to suit their cultural needs and tastes
"Our products are the same quality you would get in the main supermarkets, we just cut out the middleman and buy wholesale and weekly to get the best prices for our customers.
John continued: "And just because people are budgeting, it doesn't mean they shouldn't be able to enjoy occasions like Valentine's Day and Easter. We always think ahead and ensure we've got goods at reasonable prices so people don't need to miss out. I'd encourage anyone to give us a go: why not pop in and check out our Valentine's gifts while you're doing your groceries shopping this week?"
Here's a list of the community shops currently open:
Big Venture Community Shop


17 Chesterton Road, Scotlands, WV10 8SP
Mon - 9.30am to 2.30pm
Tue - 9.30am to 2.30pm
Wed - 9.30am to 2.30pm & 5.30pm to 8.00 pm
Thur - 9.30am to 2.30pm
Fri - 9.30am to 12.30 pm


Bilston Support Network Community Shop – Bilston Strengthening Families Hub


25 Market Way, Bilston, WV14 0DR
Tuesday, Wednesday and Friday - 9.30am to 2.30pm


Stratton Street Community Shop


Stratton Street Methodist Church Community Centre. Nine Elms Lane Park Village Wolverhampton, WV10 9AJ
Tuesday - 10am to 2.30pm
Wednesday - 10am to 5.30pm
Friday - 10am to 2.30pm


Low Hill Community Shop


Kempthorne Avenue , Low Hill, WV10 9JJ
Monday 10am-1pm & 6pm to 7.15pm
Tuesday 10am-11.30am
Wednesday 11am to 1pm and 6pm till 7pm
Thursday - 11am to 1pm


Eastfield Community Shop


Eastfield, Colliery Road, Wolverhampton, WV1 2QY
Tuesday 11am - 4pm
Wednesday 11am - 4pm
Thursday 11am - 4pm
Find more information and latest locations as they happen at www.wolverhampton.gov.uk/costoflivingsupport