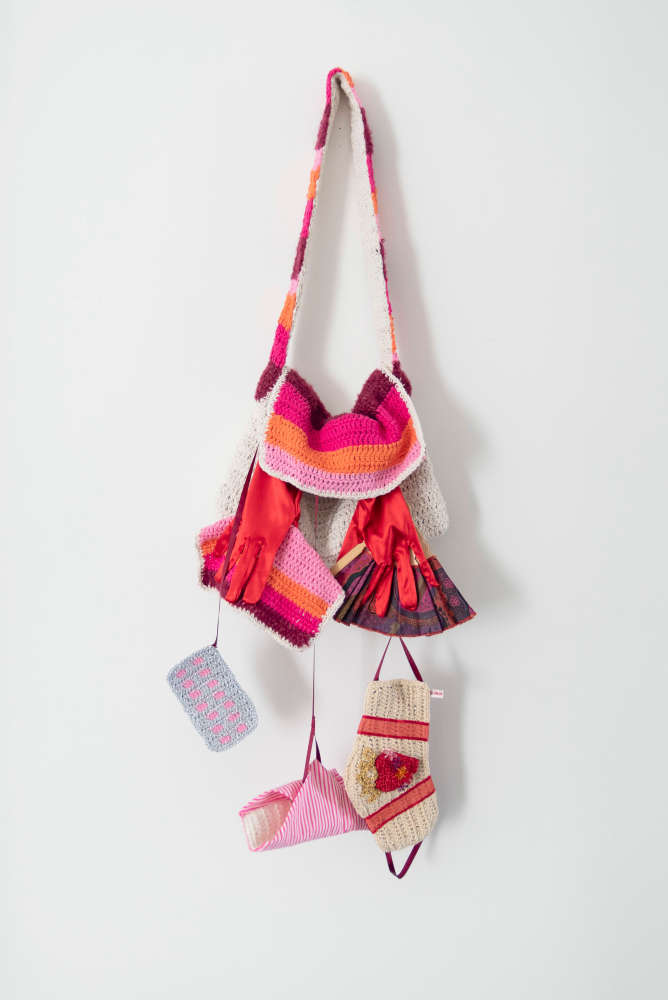 AustinDesmond Hot Flush Handbag © Su Richardson
Wolverhampton Art Gallery is proud to host Soft Power showcasing work by Birmingham-based artist Su Richardson.
Presenting over twenty crocheted sculptures made between 1974 and 2022, Soft Powerplayfully examines the position of women in the home and notions of a feminine ideal, whilst critiquing patriarchal definitions of femininity. The exhibition explores Richardson's early years as an artist, her involvement in the feminist movement, the subversion of the traditional feminine role of woman as homemaker and her exploration of bodily experiences such as illness and the effects of ageing.
Richardson was a notable contributor to key feminist interventions in British art of the 1970s, including the Postal Art Event, also known as 'Feministo', and the feminist art collective 'Fenix'. These movements took place during a pivotal time when second wave feminism and emerging feminist critique erupted onto the mainstream male-dominated art world. 'The personal is political' slogan was a ground-breaking notion underpinning the activism of second wave feminism, leading many women artists to use biographical narratives and intimate imagery within their work.
City of Wolverhampton Council Director of Vibrant City, Ian Fegan, said: "Wolverhampton is looking forward to welcoming Su Richardson and the exhibition Soft Power to Wolverhampton Art Gallery. We are delighted to present work by this important artist whose ideas are as relevant and powerful today as they were five decades ago."
Su Richardson said: "I am very excited to be able to combine showing my early 70s work alongside my current work, and to see them exhibited together in my lifetime! It's been a long time coming, nearly 50 years, but recognition is always heart-warming!"
Soft Power runs from Saturday 16 September until Sunday 10 December. The exhibition is free.
Wolverhampton Art Gallery is open Monday to Saturday (10.30am until 4.30pm) and Sunday (11am until 4pm). To find out more visit www.wolverhamptonart.org.uk.