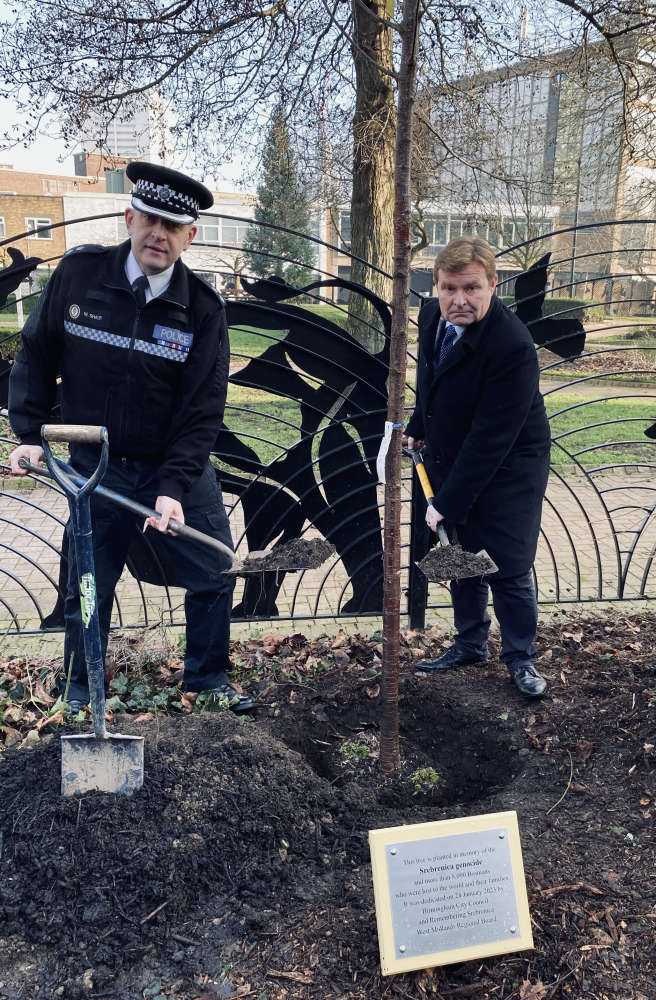 Communities wishing to remember the victims of the Srebrenica genocide in Bosnia, will be able to visit a tree which was planted in their memory at Birmingham's Peace Garden today (24 January).
An ornamental cherry tree (prunus schmittii) was planted at St Thomas' Peace Garden, off Bath Row, by Cllr John Cotton, Cabinet Member for Social Justice, Community Safety and Equalities, and Chief Superintendent Mat Shaer, West Midlands Police's lead for hate crime.
Representatives of the UK Bosnian Network and Remembering Srebrenica also took part in the ceremony dedicating it to the memory of the genocide's victims and as a pledge for the city to use lessons from Srebrenica to tackle prejudice, discrimination and hate crime.
More than 8,000 men and boys were murdered simply because of they were Muslim during the Srebrenica genocide on 11 July 1995 – with around 100,000 killed during the war in Bosnia.
Cllr Cotton said: "This tree is a symbol to the Bosnian community, and all Birmingham's diverse communities, that we must never forget about the Srebrenica genocide and reaffirm our commitment to stand up against all forms of hatred and prejudice – which have no place in our city.

"Now more than ever it's vital that we come together as people in the UK, regardless of our background, to celebrate diversity and stand together in solidarity – and come together to build a better future without hatred."
The tree also pays tribute to Birmingham's ongoing support for Remembering Srebrenica and work done with the city's Bosnian community.
Chief Supt Shaer, who is also West Midlands Regional Chair of Remembering Srebrenica, added: "I am extremely grateful to Birmingham City Council for their continued support in honouring the memory of the victims of the Srebrenica genocide. The Peace Garden is a most fitting and appropriate location and the planting of a tree with a memorial plaque will be an enduring testimony to that support."
Remembering Srebrenica Week takes place annually in the lead up to the anniversary on 11 July of what is regarded as the worst atrocity on European soil since the Second World War. However tree planting occurs between December and March – hence the timing of this commemorative event.