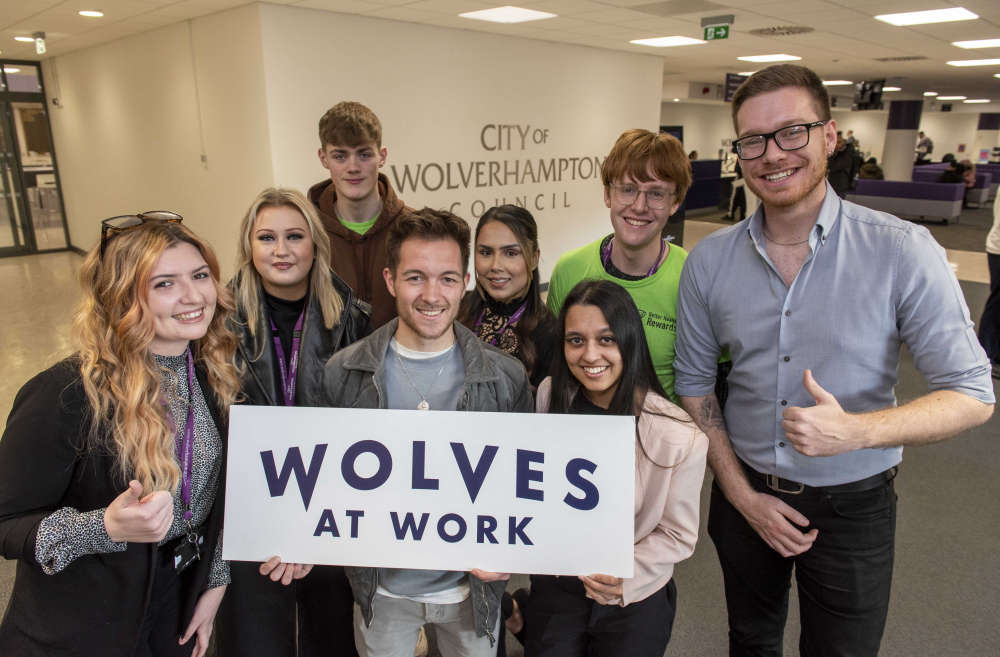 A council-led employment service is proving successful in helping to recruit local people into jobs with local employers.
The Wolves At Work programme, which is led by City of Wolverhampton Council and backed by city partners, offers one-to-one support for residents living in Wolverhampton who are looking for work or to progress in their careers, and is a free service available for people of any age to access.
The service is available to people who are highly skilled professionals as well as those without any work experience. Residents are offered their own dedicated Work Coach who offers support with CVs, help to complete job applications and interview practice, advice on training courses and in-work benefits and access to hundreds of local jobs through our links with employers.
Councillor Chris Burden, Cabinet Member for Education, Skills and Work said: "Supporting our residents into jobs, skills and training is one of the key priorities for the city.
"Over the last 12 months, 600 local people have been supported into jobs with city employers, with 149 of these recruited into jobs with City of Wolverhampton Council – all with the help of the council's skills team which includes the successful Wolves At Work programme.
"Recruitment with local employers has covered a range of roles from construction and childcare to education and engineering."
Meena Dulku, age 22 from Wolverhampton, who was recruited into a job at City of Wolverhampton Council's Customer Services Team in January, said: "When I finished University, I felt very stressed and was not enjoying my part time jobs and I didn't know what the next steps were for me.
"I met with the council's Wolves At Work team who introduced me to managers who would be interested in my abilities for a role at the council. They helped me to prepare for interview which made me feel reassured.
"The team I'm now working in is very supportive, my managers are very understanding and approachable and my colleagues have become good friends. I enjoy my job and I am happy working for the council.
"I recommend anyone who's looking for a job to get in touch with the Wolves at Work team. I can't be more grateful to them for making such an effort to help me find a job!"
Wolves At Work holds weekly informal sessions for people of any age to drop by and to find out what help is available to them.
For people of any age:

Thursdays: 2pm - 4pm, Civic Centre, Ground Floor Foyer, St Peter's Square, Wolverhampton WV1 1SH.

For young people aged 18-24

Tuesdays: 2pm – 4pm, The Way Youth Zone, School Street, Wolverhampton WV3 0NR and Wednesdays: 4pm - 7pm, The Careers and Skills hub, Wellington Road Campus, Wolverhampton WV14 6BT.
Alternatively, residents can email wolvesatwork@wolverhampton.gov.uk or call 01902 554400.
Local employers looking for support to fill roles can find support through the Wolves At Work team of dedicated Recruitment Managers. They can help by finding the right candidates for vacant roles and offer a range of support, from mapping potential candidates against your criteria through to arranging interviews. They also offer ongoing support to ensure that candidates stay in employment – from assisting with initial travel costs to providing advice on childcare and finances.
Employers can advertise their vacances for free on Wolves Workbox, an online skills and employment website dedicated to the City of Wolverhampton.
In the last 12 months, 142 employers have advertised 1,594 local vacancies on the website. Employers interested in doing this can visit www.wolvesworkbox.com or email recruitment@wolverhampton.gov.uk.