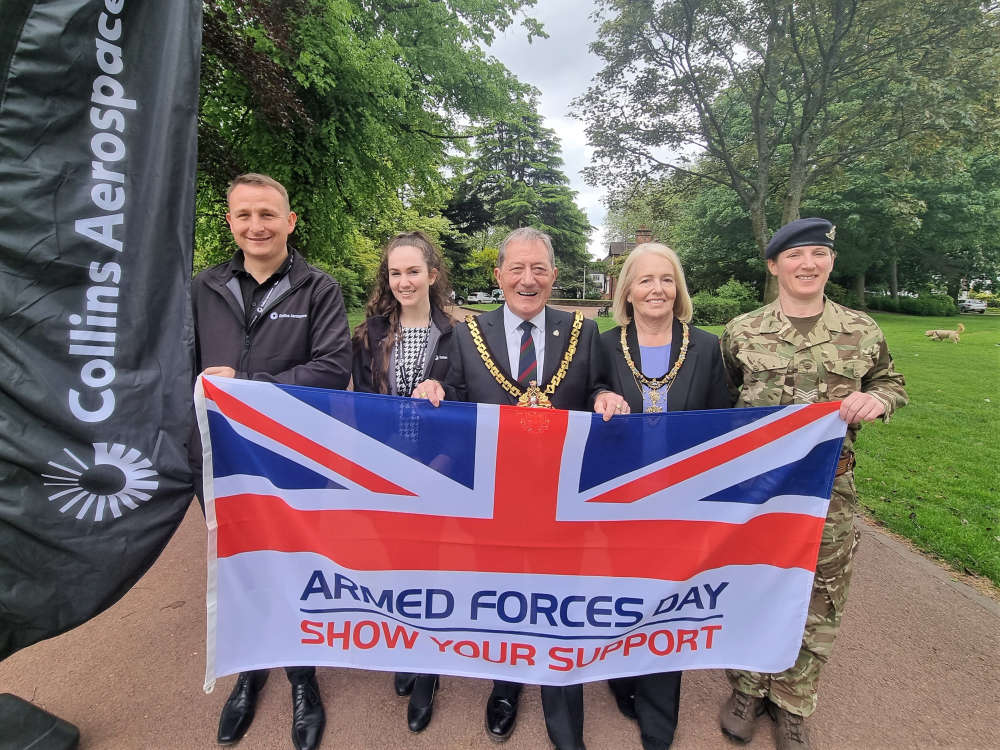 Armed Forces Day 2023. Pictured l-r: Jamie Deakin, Product Support Engineer at Collins Aerospace; Kasai Rimmer, STEM and Early Careers Talent Acquisition Lead at Collins Aerospace; The Mayor of Wolverhampton, Councillor
The City of Wolverhampton Armed Forces Day 2023 takes place on Saturday 24 June from noon to 4.30pm at West Park and promises to be a great day of free entertainment for all the family in celebration of our Armed Forces and all they do for the City and our country.
This year's event is sponsored by local business Collins Aerospace – make sure you visit their stall at the event in West Park which will be buzzing with activities for people of all ages, focusing on family fun throughout the day.
City of Wolverhampton's Mayor, Councillor Dr Michael Hardacre, said: "The City of Wolverhampton has a special relationship with our armed forces. I hope as many people as possible from across the City come along to Armed Forces Day and show their support.
"Armed Forces Day is a fantastic, free and fun event for all the family with something for everyone. I look forward to seeing you there and joining with you in the festivities to celebrate all that the Forces do to defend our nation at home and abroad."
Steve Holder, General Manager for Collins Aerospace Actuation Site in Wolverhampton, said: "At Collins Aerospace, we know and value the strategic and tactical talents that our armed forces community can offer. In sponsoring this year's Armed Forces Day event in Wolverhampton, we are extending our support and admiration to the courageous men and women who have served their country.
"We are dedicated to hiring veterans – whether you're a veteran, a reserve member, military spouse or transitioning from active duty to a civilian career. Our military veterans work across all disciplines. They lead our businesses, engineer our products and manage our supply chain."
This free family fun event will also feature funfair rides, street food traders and bar, with FREE activities including face painting and an appearance from Wolves FC mascot's Wolfie & Wendy. There will also be the chance to meet and chat with local forces as well as information stalls.
Plus a new addition to this year's event is our IMPS Motorcycle Display Arena where the world's premier military style motorcycle display team will perform twice during the day and will close the event at 4.30pm flying the Armed Forces Day flag in a spectacular pyramid formation. It's not to be missed!
For more information, please visit https://bit.ly/45vyCA3