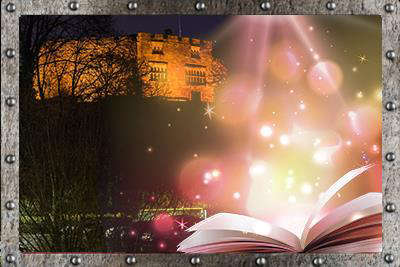 • Families invited to make their own lanterns at half term event • Tour the castle and listen to tales by lantern light • Children's castle trail exploring life working at a mill as a child
Families are invited to enjoy February half-term with tales by lantern light of heroes and villains at Tamworth Castle on Friday 24 February.
The Lanternory experience incorporates a 30-minute lantern making workshop, followed by a 50-minute tale by a storyteller as visitors tour through the castle lit by lantern light, including the lantern's created by the visitors themselves.
Following on from the sell-out Castle by Candlelight evening in December 2022, this event is expected to be popular with families, so please book early to avoid missing out. Evening slots at 4pm, 5pm, 6pm or 7pm are available.
Tickets priced at £14.50 for a child and £10 for an adult. Suitable for approximately seven-year-olds and above. Visit: www.tamworthcastle.co.uk to find out more and book tickets.
More half term activities at the castle include a children's trail linked to the Tamworth Castle Mill archaeology project from Saturday18 February to Sunday 26 February. General admission prices apply.
Archaeologists have been helping to uncover the history of Tamworth Castle Mill – but did you know that children used to work there? The family friendly trail will ask visitors to help Millie and Michael get dressed for a day working at the mill. Discover more about how we dig up our history and claim a prize at the end.
Whilst at Tamworth Castle, visitors are also invited to experience the award-winning castle Battle and Tribute exhibition.
Opened in 2021, the £768,000 interactive state-of-the-art exposition showcases the town's rich Anglo-Saxon history and is decked with a variety of features – containing a mead hall, an immersive combat film experience, a unique touch-table strategy game and pieces of the legendary Staffordshire Hoard, alongside other Anglo-Saxon artefacts.
As well as travelling back in time through the Battle and Tribute exhibition, visitors to Tamworth Castle can also take part in the virtual reality world via the Augmented Reality Trail.
Visitors can use the Tamworth AR Explorer app to see the spirits of the castle and discover its stories at the fingertips of their smartphone. The interactive mobile app, which is used by scanning the AR marker in each room, also has unique selfie filters and the Castle's Memory Keeper, a companion to guide visitors as they explore the premises.
The app is free to download for Apple IOS (tinyurl.com/2p8sj95c) and Android (tinyurl.com/2p8khp32) devices from their respective app stores.
Lara Rowe, Castle and Museum Manager for Tamworth Borough Council, said: "This February half term we have lots of activities for the whole family to enjoy at the castle.
"Building on the return of the popular festive Castle by Candlelight event, and the achievements last year with the archaeology community dig; I'm excited to see we are offering a family lanternory evening, plus a children's trail that focuses on the work life at a mill for children."