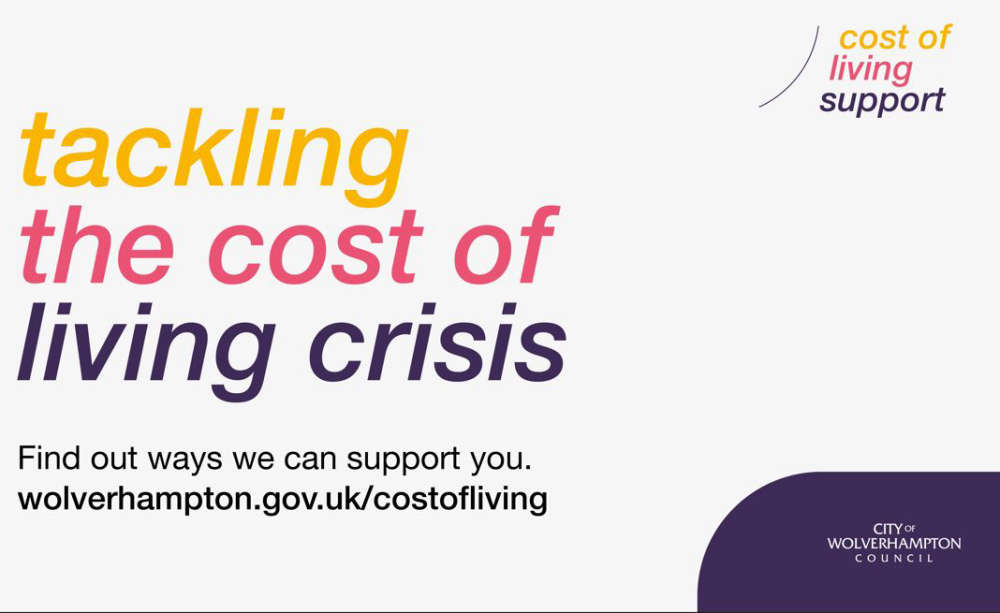 The City of Wolverhampton Council is concerned people could be more tempted than normal to turn to loan sharks this Christmas with the cost-of-living crisis putting huge pressure on household finances.
The Council is supporting the England Illegal Money Lending Team's new campaign #SleighNoToLoanSharks and wants to highlight other ways families can still have a happy Christmas this year without spiralling into a vicious cycle of debt.
As households struggle to cope with rising food, fuel and energy bills, loan sharks are targeting vulnerable people seeking credit and trapping them into debt with exorbitant interest rates and threats of violence.
Figures released by the England Illegal Money Lending Team (IMLT) show that nearly one in ten of those who borrowed money from loan sharks last year did so to cover the costs of Christmas. More than half of victims (52%) supported by the IMLT in the first half of 2022 had borrowed from a loan shark to pay for essentials such as food and fuel.
These figures come amid national warnings the scale of household debt will continue to rise as financial pressures on households leaves many struggling to afford their monthly bills.
Deputy Leader of the City of Wolverhampton Council, Councillor Stephen Simkins said:
"Everyone should be able to have a good time with their families at Christmas, but I don't want Wolverhampton families to fall victim to unscrupulous loan sharks, which could ruin their lives, not just their Christmas
"They are a real danger to communities and our city. The cost-of-living crisis is already putting such pressure on household budgets, I understand how these offers could look tempting on the face of it, but they're not the answer and there are other ways of making your money go further this festive season.
"As a council we're working hard to help people with the cost-of-living with initiatives like the community shops, which always offer good food at low prices and are offering good deals on Christmas specials.
"Please don't risk your family's financial future this Christmas, look at the tips to protect yourself from the sharks and take advantage of the alternative, cheaper ways to still have a happy time this festive season."
Here's just a few ways to still have a good Christmas, but at less cost:
Pop into one of the city's community shops, which the council has helped fund – they have a diverse range of good quality food, just at cheaper prices as they buy direct from the wholesaler. And many will have special offers on Christmas festive fayre and even toys
Ensure children have a fun time with free places for eligible children on our Yo! Christmas range of activities where they also get a meal, as part of our Yo! Wolves initiative. Book here for Home | Wolverhampton Young Opportunities (yowolves.co.uk)

Talk to organisations to see if you can arrange to pay bills at a reduced rate and over a longer period. It's always better to have a chat than bury your head in the sand while the situation worsens

Join a credit union, Wolverhampton City Credit Union can help with advice and financial planning, help you save and borrow at fair and affordable rates
The credit union also has some great tips for making your money go further this Christmas:
Ways to save on presents - You don't have to give presents to all your friends and family - if money is tight, think about doing Secret Santa so everyone only has to buy one gift.
Stick to your budget - If you are going to give a gift, make sure you get the best value for your money and stick to your budget.
Shop around and compare prices - If you know what gift you want to buy, make sure you compare and track the price.
Check out discount codes - If you've got your eye on a particular purchase, signing up to a retailer mailing list could net you discounts - from introductory offers, to personalised codes that appear in your inbox if you abandon your shopping cart. Some retailers also offer discounts if you refer a friend.
Buy second-hand - Second-hand selling sites are a great way to save money on gifts. Alternatively, you could try looking for gifts in local charity shops.
Get creative - As an alternative to buying a gift, why not try making one? After all, it's the thought that counts.
Cut down on food costs - Pre-planning meals and writing a list of exactly what you need is one of the best ways to save money.
Make the most of loyalty schemes - Coupons, vouchers and reward points can help your money go further. For coupons, check supermarket magazines and newsletters, promotions on food packaging and discounts on websites.
Anyone looking for further details can contact Wolverhampton City Credit Union on 01902 572340 or email contactus@wccul.co.uk They can also apply online for a fair and affordable loan at www.wccul.co.uk/Loans
And here's some useful safety tips from the IMLT to protect yourself and loved ones from loan sharks:
If you're struggling to make ends meet and need cash fast, the thought of a loan shark might seem tempting, but remember these lenders are not your friends. Debt can quickly spiral out of control – it's important to think carefully before taking out a loan and consider other options
Never send money or give credit card, online account details or copies of personal documents to anyone you don't know or trust. This information is valuable so make sure you protect it from criminals who can use it to find and stalk you, harass you or threaten those you love
If you're thinking about borrowing money, it's important to check that your lender is genuine. Loan sharks operate illegally without the correct permission from the Financial Conduct Authority (FCA). Do your research first and check the firm or person you're dealing with is listed on the Financial Services Register
When exploitative loan sharks are preying on hardship, it's vital for people to know there is an ethical, local, not-for-profit alternative available. Credit unions are a lifeline for many and there are community lenders who are mostly not for profit and reinvest any surpluses into serving vulnerable customers. More details at https://www.findingfinance.org.uk
Getting trapped in a never-ending spiral of debt after borrowing from a loan shark can have devastating consequences, not only on your finances but also on most other aspects of your life, including your mental health, work and relationships with your family and friends.
If you're worried about a friend or family member, or if you need help yourself, Stop Loan Sharks can offer confidential advice and support.
Contact the Stop Loan Sharks 24/7 Helpline on 0300 555 2222 for support or visit www.stoploansharks.co.uk. Live Chat is available on the website between 9am and 5pm, Monday to Friday.