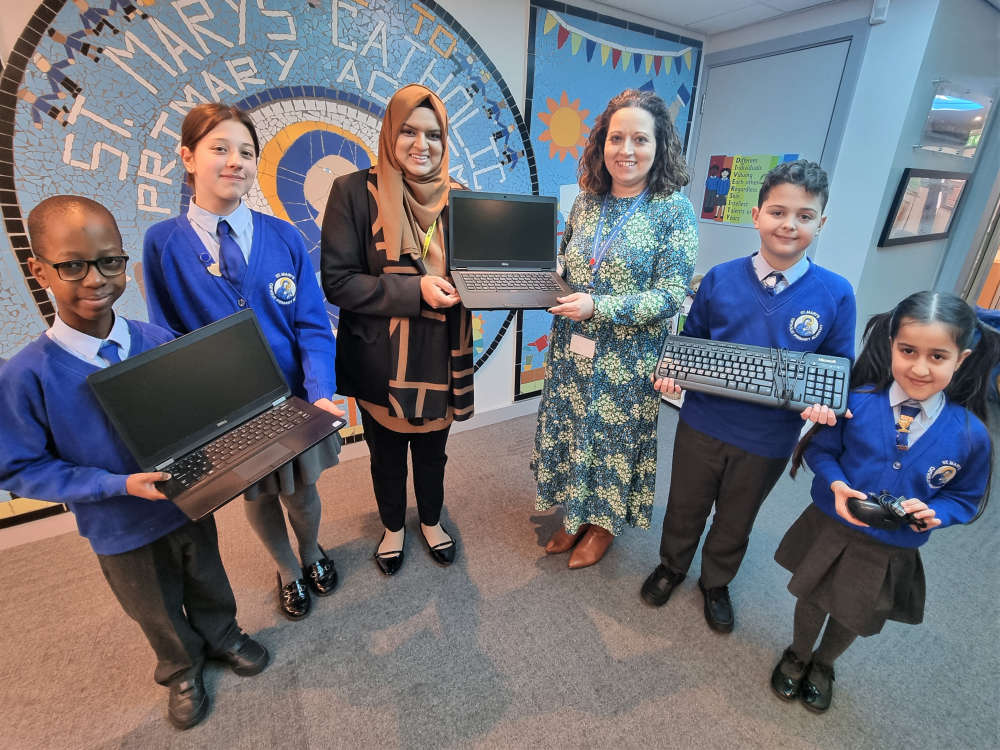 Councillor Ahmed donating devices from Tech Aid to head teacher Vicky Minihane and pupils from St Mary's Catholic Primary Academy.
City residents and businesses could help transform the lives of children by donating devices they no longer need to help them get online.
One in five children in the city has no way to get online, but Wolves Tech Aid is trying to change this by recycling the devices that many of us have lying round, but which we no longer use.
Wolves Tech Aid provides donated computers, laptops and tablets to children who would otherwise be without this technology and the ability to access online classes and to complete homework.
Every device donated helps children of all ages to flourish academically and help to eliminate the inequality of access to digital education in homes across the city.
Councillor Obaida Ahmed, Cabinet Member for Resources and Digital City, said:
'Wolves Tech Aid takes the used devices which are donated, digitally cleaning them and wiping the hard disk then distributing to pupils in our schools who would otherwise be without.
'I would encourage businesses, residents and anyone else who may have old devices gathering dust somewhere to please donate them instead to Wolves Tech Aid.
'Digital inclusion is fundamental – not a 'nice to have; it is the primary means of connection, access to learning and essential services as well as supporting social inclusion and cohesion.
'Access to devices, connectivity and digital skills are crucial for economic resilience and growth, for providing a gateway to education, jobs and further progression. It is therefore crucial that all residents can benefit by ensuring they have the devices and connectivity to get online and improve their life chances."
To date, 380 devices have been donated, supporting seven schools across the city. Devices don't have to be in pristine condition, even if they can't be recycled, Wolves Tech Aid is adept at using as many parts as possible to refurbish other devices.
It's very easy to donate, just drop them off at the Civic Centre or libraries in Wednesfield, Finchfield, Tettenhall and Bilston.
Find out more on the Wolves Tech website Wolves Tech Aid – Give a child a future or contact digitalwolves@wolverhampton.gov.uk.