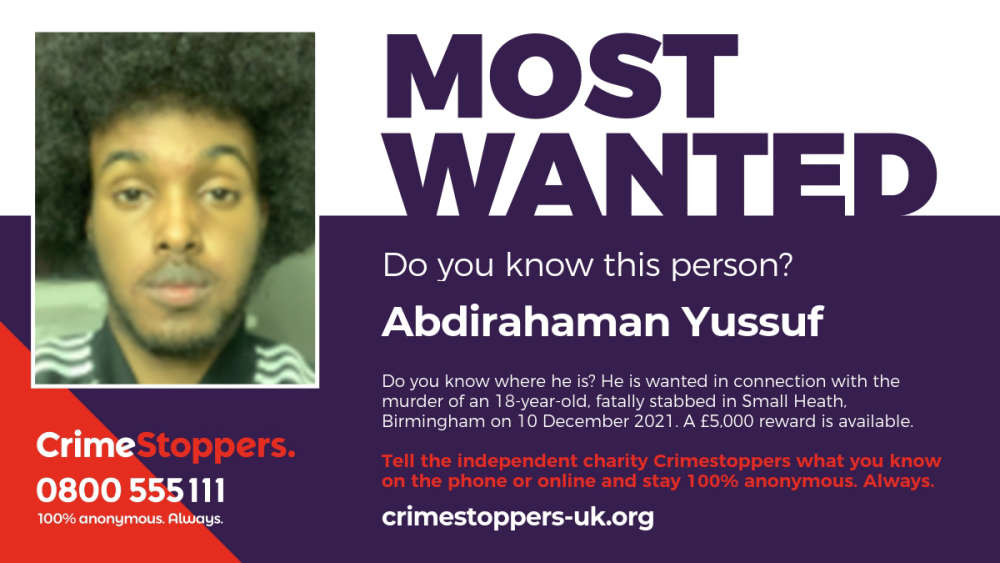 Independent charity offers reward for anonymous information on location of Yussuf, wanted in connection with a Birmingham murder – he also has links with London
The charity Crimestoppers is appealing for the public to contact them 100% anonymously if they know the whereabouts of 19-year-old Abdirahaman Yussuf.

Abdirahaman Yussuf, from South Yardley, Birmingham, is thought to either still be in Birmingham or London. He is wanted in connection with the murder of 18-year-old Yahya Sharif, who was fatally stabbed on Coventry Road, Small Heath just before 5.30pm on 10 December 2021.

***Crimestoppers is supporting police by offering a reward of up to £5,000 for anonymous information the charity exclusively receives - via its website Crimestoppers-uk.org or by phone on 0800 555 111 - that leads to the location and arrest of Abdirahaman Yussuf. ***

Mick Duthie, Director of Operations at the charity Crimestoppers, said: "A family are grieving over the loss of this young life. We know it can be difficult to speak up about those wanted for questioning over a serious crime, especially if they are close to you. This is why our charity is here to help.

"Crimestoppers gives people the option to remain completely anonymous when telling us what they know. We have kept this promise since we started back in the late 1980s. Crime information can be received in up to 140 different languages, including Somalian.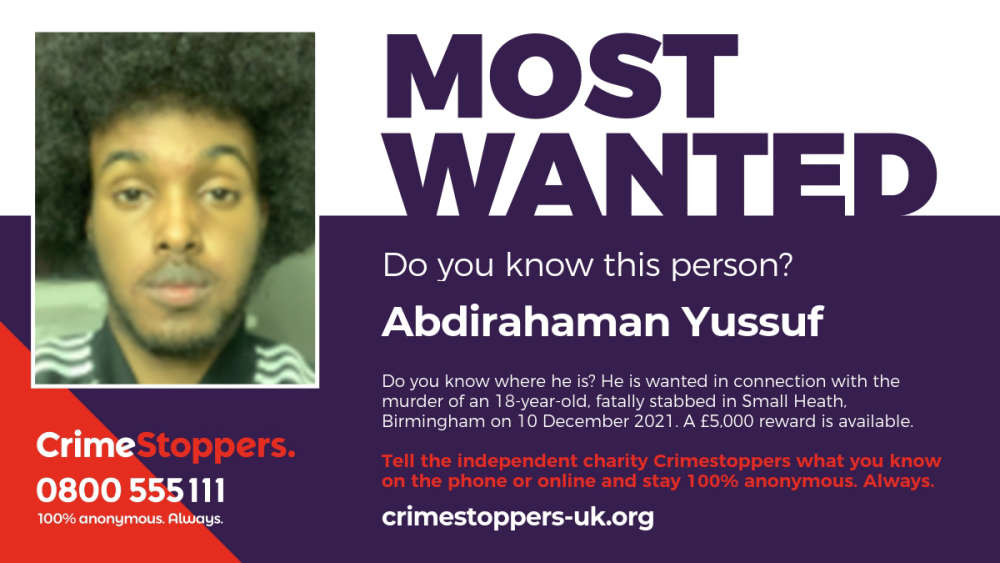 "If you know where Abdirahaman Yussuf is, I urge you to speak to us completely anonymously. Call our UK Contact Centre, which is open 24/7 on freephone number 0800 555 111 or use our simple and secure anonymous online form at www.crimestoppers-uk.org.

"Nobody will know you contacted us and you will be doing the right thing for Yahya's family. You may also be eligible for a reward and no piece of information is too small to tell us."

***Information passed directly to police will not qualify. The reward will only qualify for information given exclusively to the charity Crimestoppers' via the 0800 555 111 number or the simple and secure anonymous online form at www.crimestoppers-uk.org***

Please note: Computer IP addresses are never traced and no-one will ever know you contacted Crimestoppers. For telephone calls, there is no caller line display, no 1471 facility and calls have never been traced.