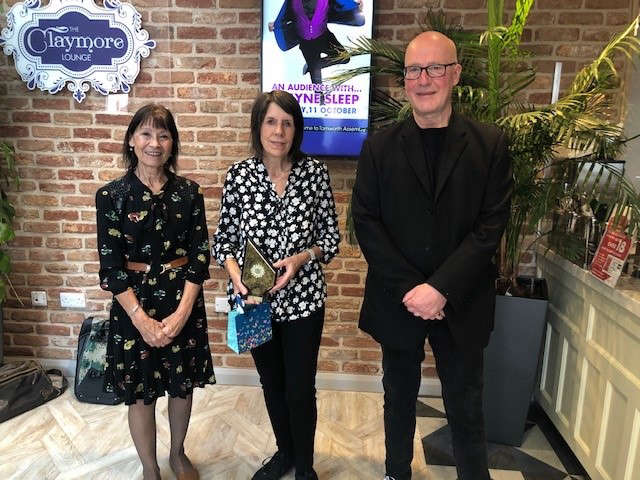 Popular Creative Writing Café present new award to poem winner Creative café is renamed in memory of Mal Dewhirst Council continues to support weekly writing sessions at the Assembly Rooms
Local creative writers joined together for a special presentation of a new award in memory of local poet, writer and film maker, Mal Dewhirst, on Monday, September 12 at 11am.
Presenting the inaugural Mal Dewhirst Creative Writing Award was Mal's partner Ann Cook, in a very moving presentation to the winner, local poet Susan Wood.
The award was given to Sue for her winning poem submitted in May with the theme 'Darkness to Light'. Sue said: "What an amazing honour and privilege to receive this award in memory of Mal. I have worked with Mal on several occasions when I became a member of Lichfield Poets.
"He was a kind, lovely supportive man, who offered great advice and was very committed to working with community arts projects. A very talented man who is greatly missed."
Mal's partner, Ann Cook, presented the award with a heartfelt speech, recognising the honour of Mal Dewhirst's legacy.
Ann commented: "A few weeks ago I mentioned to someone that Simon and I were reading poems, with a view to choosing one for this award and how difficult that was proving to be for me.
"I chose the poem that I thought about first thing in the morning when I awoke; this was Sue's poem.
"The words resonated completely with me and the emotions it evoked were overwhelming."
Sue Wood, humbly received the award, thanking Ann deeply and expressing her gratitude before reading her poem to all people present. The poem is titled 'Deep Waters' and can be found at the end of this article.
The creative writing café was set up by Simon Quinn on June 27th, 2022. Simon, a creative project development practitioner, freelance writer and director; had worked closely with Mal with Fired Up Theatre, a group who have produced a plethora of community arts projects in Tamworth and Staffordshire wide since 2012.
The writing café was launched in partnership with Tamworth Borough Council's Assembly Rooms, meeting weekly throughout the summer and offering budding writers an opportunity to come together and share writing experiences. The group has grown and become a popular activity, with a series of new sessions planned from October 3, from 10.30am – 12pm. The meetings are free, offering tea and coffee plus an informal and welcoming environment.
Simon said: "Working with the Assembly Rooms to offer these weekly sessions has proved to be a great success and I am looking forward to continuing with the new group name of 'The Mal Dewhirst Creative Writing Café.'
"Mal was a very talented man and loved being involved in community projects, I know he would have been very excited to see how this writing café is helping to open local creative minds and encourages people of all ages and backgrounds to join together and explore the love of writing.
"The presentation of the award today has been a very poignant moment and I would like to thank everyone who came to honour our first Mal Dewhirst Creative Writing Award."
To take part or for more info please contact Fired Up Theatre by emailing: fireduptheatre@aol.comor tarartsdevelopment@tamworth.gov.uk.
Find out more about events at the Tamworth Assembly Rooms here: What's On | Tamworth Arts and Events