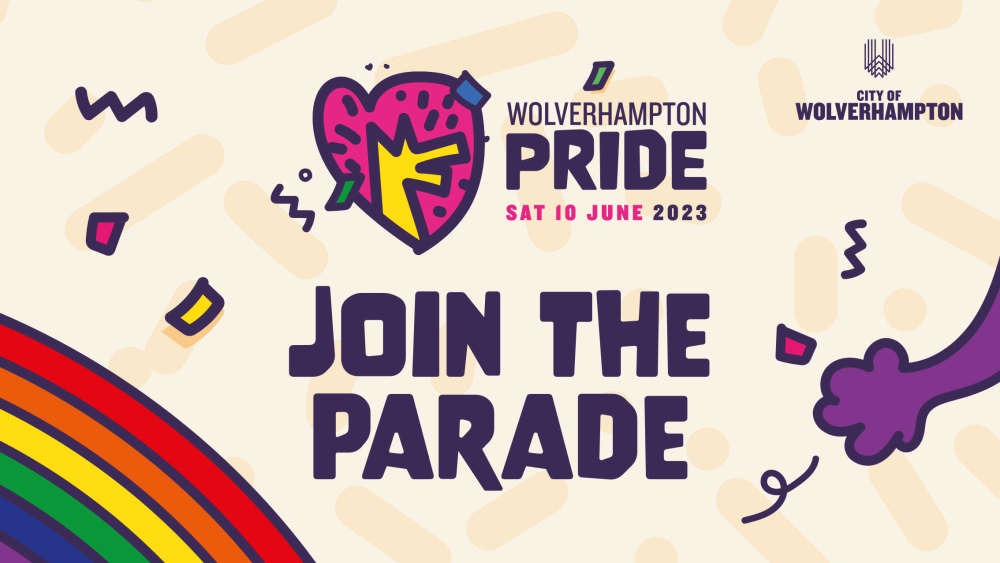 Wolverhampton Pride will return to the city on Saturday 10 June. It features a wide range of entertainment and activities including headline acts Scott Mills, Baga Chipz, The Fizz and a host of local acts.
Partner organisations involved in shaping the event have now announced that a parade will be held to kick off celebrations for the day. Everyone is welcome to take part – from single entrants to friends and from work colleagues to organisations – it is an opportunity to show support for the city's LGBT+ community.
Ian Fegan, Director of Communications and Visitor Experience at City of Wolverhampton Council, said:
"We want as many people as possible to enjoy Wolverhampton Pride 2023 and be part of a day when we are all able to come together to celebrate, honour and show our support for the LGBT+ community.
"Participating in the parade is open to everyone and we look forward to seeing this year's parade return. Please don't miss out, make sure you submit applications in good time and, most of all, enjoy yourselves."
Wolverhampton Pride is organised by City of Wolverhampton Council in partnership with Enjoy Wolverhampton Business Improvement District, Wolverhampton Homes, Gorgeous Radio, X2Y, Wolverhampton LGBT+, The White Hart and Gorgeous Nightclub and Arena Theatre.
Anyone who would like to take part in Wolverhampton Pride's parade can now apply at https://forms.office.com/e/dAtXs4xmV9
Tickets for Wolverhampton Pride are £3 for adults, £1.50 for concessions and free for the under 12's with no additional fees.
To book your tickets for Wolverhampton Pride go to https://www.eventbrite.co.uk/e/wolverhampton-pride-tickets-512016363727?utm-campaign=social&utm-content=attendeeshare&utm-medium=discovery&utm-term=listing&utm-source=cp&aff=escb