Get involved with Gorgeous Radio
Gorgeous Radio is constantly on the look out for new talent to join the station in a variety of roles, including presenting on-air, to helping out with the sound of the station. Below, you can find information about who we are & how you can get involved.
🤔 So, who are we?
We're Gorgeous Radio, your #1 LGBTQ+ radio station, with studios based out of Wolverhampton. You can listen to the station through a variety of means - DAB, Mobile App, Smart Speaker and online through our website, click here for the full list of ways to listen.
At Gorgeous Radio, our team constantly continues to grow, with a dedicated group of individuals collaborating to run a thriving local radio station right from the heart of Wolverhampton.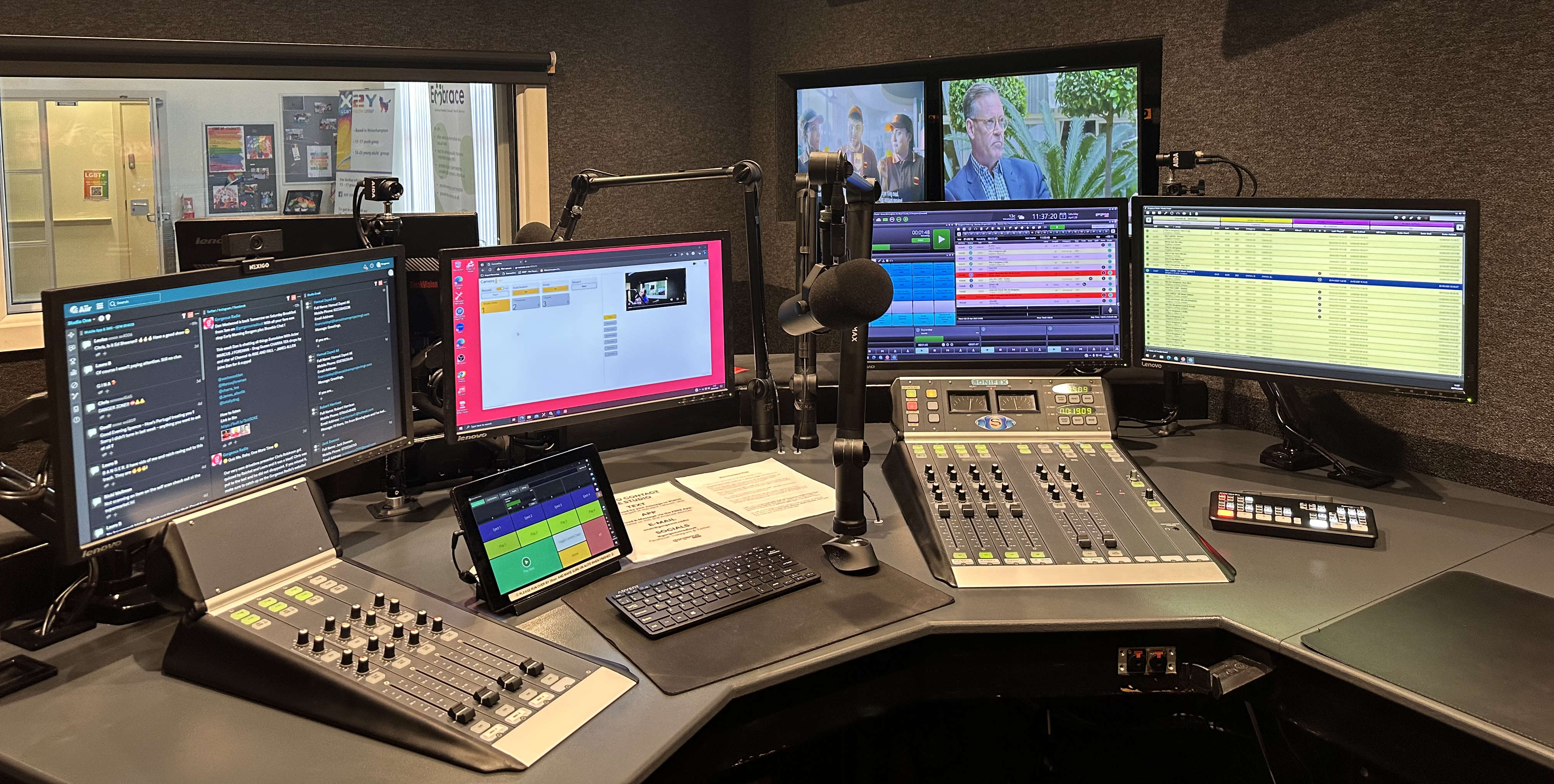 Throughout the year, various opportunities will arise for you to get involved should you wish. These opportunities vary from behind-the-scenes support to helping us & participating in events. Therefore, it's an excellent way to acquire new skills, boost your confidence, and dedicate some quality time to your passions, whether you can spare an hour per week or more!
Keep in mind that working at a radio station isn't limited to being a presenter though. In fact, hosting shows represents only a small portion of what contributes to the success of the station. Becoming a presenter, at any level, typically involves a learning process and a deep understanding of the station's inner workings.

🤝 What can we offer you?
Training:
Our station offers extensive training programs designed to cater to your specific needs. Our mission is to empower individuals with the skills and knowledge required to thrive in the dynamic world of radio. And, if you're new to the field, our training resources are here to support your journey towards becoming a proficient broadcaster.
Professional Equipment:
We offer professional radio equipment, industry-standard software, and tools to empower our presenters. With top-tier broadcasting gear, we always try our best to deliver high-quality content. Whether you're a radio veteran or new to the studio, we provide the resources for exceptional broadcasts.
Supportive Team:
All individuals at the station are here on a voluntary basis - but, it's important to not forget that our team contains a mix of experienced professionals, with backgrounds ranging from renowned radio networks like Bauer, Global, and the BBC, to those who offer unique skill sets from diverse fields, some of whom had no prior studio experience before joining us.

📃 What roles are currently available?
Radio Presenting:
Are you passionate about connecting with audiences through the airwaves? By becoming a radio presenter at Gorgeous Radio, you'll be at the forefront of delivering engaging content to our listeners. Whether you're an experienced broadcasting professional or an aspiring talent, this role offers you the opportunity to shine.
Click here to view more information about the position, and to submit your application.
LGBTQ+ News Producer:
Are you passionate about shedding light on LGBTQ+ stories and issues through the media? Join our team as an LGBTQ+ News Producer and take a leading role in amplifying voices and advocating for equality. You would be creating LGBTQ+ news content for our website, which would also be shared on social media.
Click here to view more information about the position, and to submit your application.
Imaging Producers:
Are you driven by the power of audio? Join our team as a Radio Imaging Producer, where you'll be the creative force behind our station's audio identity. Whether that's creating custom pieces for presenters, or creating advertisements for events, this role offers you the opportunity to craft the soundscapes that captivate our audience.
Click here to view more information about the position, and to submit your application.
📝 Things to note:
asdabsdabsdhasidhasdhasdasjdasd