Team England has today revealed the Opening Ceremony outfit that its athletes will wear when the Birmingham 2022 Commonwealth Games begin on July 28th. Produced by fashion designer Patrick Grant's Community Clothing in collaboration with a team of English creatives, the outfit features a modern take on the country's traditional red and white with a workwear jacket inspired by Birmingham's industrial heritage.
Community Clothing is a sustainable fashion brand and social enterprise founded by Patrick Grant who is known to millions as a judge on BBC's 'Great British Sewing Bee'. Working with Team England they have produced an outfit with a red chore jacket as its focal point, together with a stone chino and a t-shirt emblazoned with words from 'Bring It!' – an inspirational poem by Matt Windle known for being a poet laureate by day and professional boxer by night.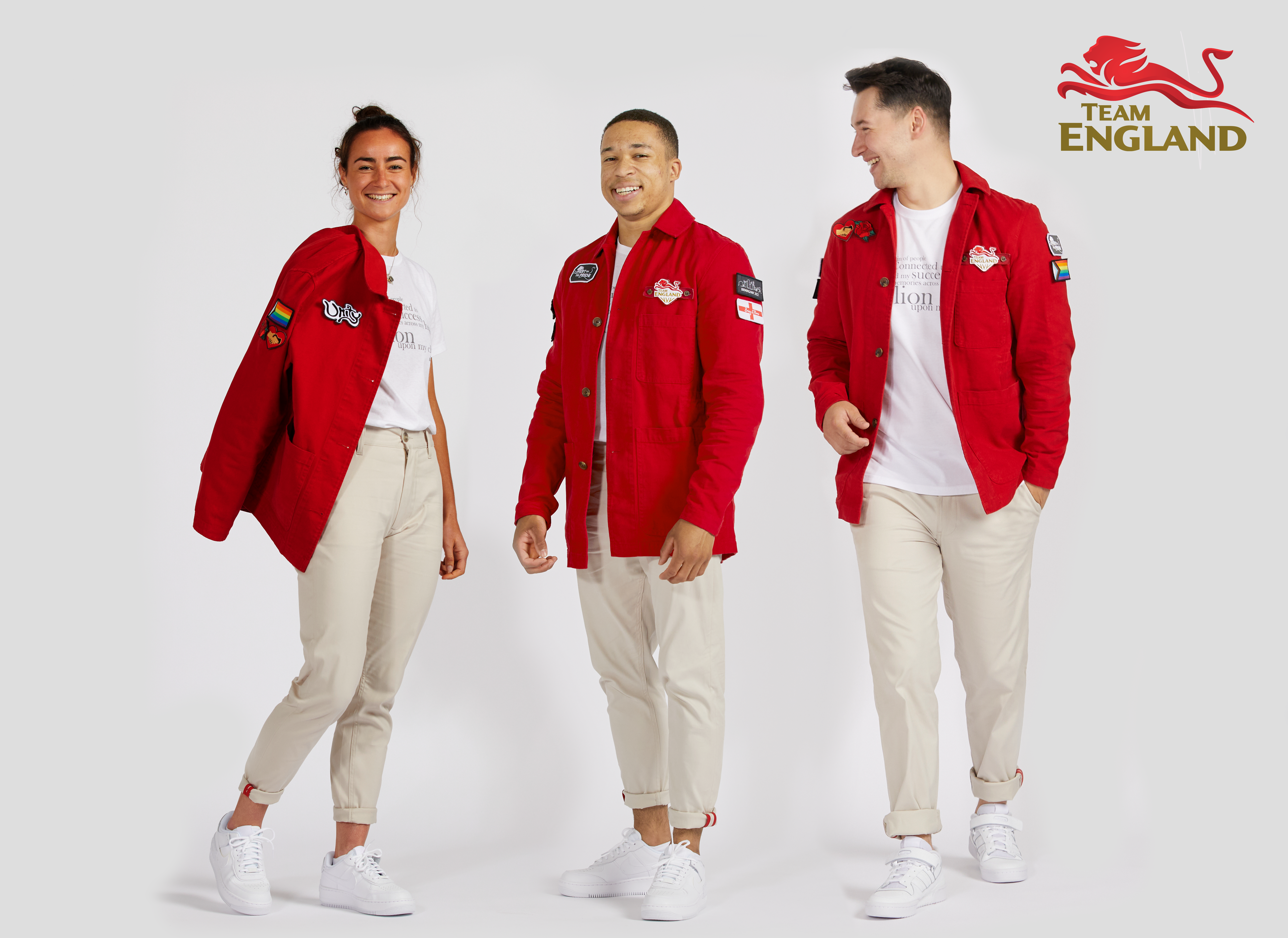 Patrick Grant, founder of Community Clothing said, "Everyone here at Community Clothing is incredibly proud to be manufacturing the uniform for Team England for the Opening Ceremony. It's such an honour for us, we wanted to create clothing that would have a life after the Games, and a uniform that expresses something about the athletes as individuals."
Matt Windle, the 'poet with a punch' said "I'm immensely proud of the fact that Birmingham has been chosen to host the Commonwealth Games and it's an honour to have been asked to be a part of such an historic event. Team England inspired me to create this poem and as the home nation they're going to inspire millions of people this summer of all ages and abilities."
As well as a poet, the kit design also features contributions from a team of creatives that will enable every single Team England athlete to style their own look at the opening ceremony. A series of patches can be added to the chore jacket, a unique concept in team uniform which aims to celebrate the diversity of the team. Each patch has been designed by an English creative – from knitters to painters.
Artist George Groves is one of those artists and he commented, "Knowing the team are wearing something I have worked on is beyond words. Working with all the other creative artists to see this project come to life has been phenomenal, I really look forward to seeing the jackets and our badges at the opening ceremony."
The outfit design takes inspiration from the host city's history as 'the city of a thousand trades' and will be worn by over 400 Team England athletes. Every Team England member will be aiming to 'Bring It Home' at the forthcoming home Games and this phrase inspired Matt Windle's poem 'Bring It!' which features in part, in the graffiti style graphic, on the t-shirt of the opening ceremony outfit.
The t-shirt features a stanza of 'Bring It' and reads:
"There's an entire chain of people
Connected to me and my success
They're the memories across my heart
Like the lion upon my chest"
The full poem will be revealed exclusively to the athletes at their Kitting Out event and shared with the public nearer to the Games.
Team England President, Denise Lewis OBE said: "Every stitch, seam, button and badge has been discussed in detail and so I hope each and every member of Team England wears it with pride. Knowing that the look and feel of the Official Opening Ceremony wear has been approved by the athletes and produced for the athletes highlights just what Team England is about. My personal thanks go out to our Head of Kit, Lou Pullan, for all her hard work and persistence and Patrick, and his team for bringing the vision to life".
An array of detachable patches will allow each athlete to tailor their own individual look at the Opening Ceremony. The removable nature of the patches also increases the likelihood of the jacket being worn post Games and further boosts the sustainability credentials of the kit. The designs include a reference to Jerusalem, the anthem of Team England, Unity and 'Bring It Home'. The full list of designers from across England is:
Beth Cordukes, fashion designer, Birmingham

David Vincent, mixed media, Yorkshire

George Groves, artist, Buckinghamshire

Daxa Odedra, painter, London

Lorna Hamilton-Brown, knitter & artist, East Sussex

Laura Smith, artists & craft designer, Leicestershire

Matt Windle, poet, Birmingham
The kit is already proving a hit with Team England athletes.
"I think the opening ceremony kit is amazing and it allows each person to design a small part of it themselves! I also love the fact that it's all made in England, and I will be wearing it with pride alongside the rest of this amazing team," said Ross Wilson, Team England para table tennis athlete.
​Fiona Crackles, Team England hockey athlete also commented, "The Opening Ceremony kit is absolutely amazing. It is such a well thought through, high quality and comfortable kit. It made me feel incredibly proud to be wearing a fully English made uniform. The Velcro patches were such a daring addition but being able to personalise and celebrate individuality while uniting as Team England all from one jacket is so clever. Meeting the people behind the uniform and understanding all the small details that went into designing it was also very special."