Volunteer Vacancy: Drivetime Presenter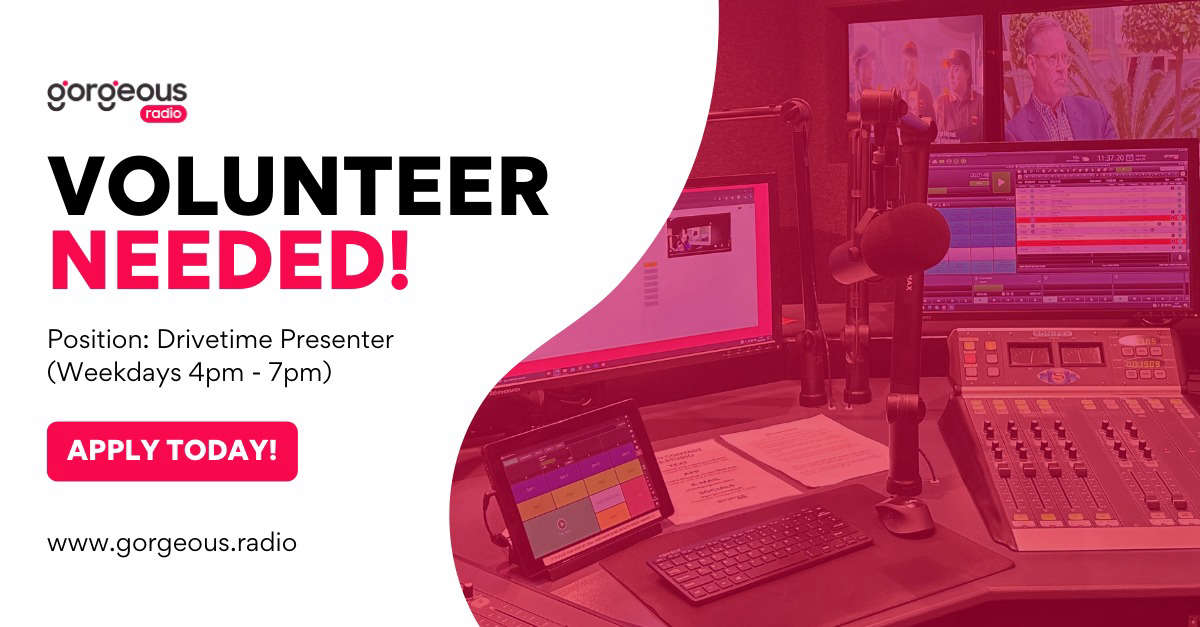 Volunteer Vacancy: Drivetime Presenter
Organization: Gorgeous Radio
Location: Wolverhampton City Centre, or Remote
Time Commitment: 4-7pm, Monday to Friday
Playout Software: Aiir - PlayoutOne Pro, WebVT
Are you passionate about music, engaging with your community, and delivering top-notch entertainment? Gorgeous Radio is looking for a dynamic Drivetime Presenter to join our team! Whether you prefer being in the studio or broadcasting remotely, we have a place for you.
About Gorgeous Radio:
Gorgeous Radio is a vibrant and community-driven radio station that connects with music lovers and local communities. We are dedicated to providing an exceptional radio experience that resonates with our listeners. Our diverse range of shows, music, and events make us a hub of creativity and entertainment.
Position Overview:
As a Drivetime Presenter at Gorgeous Radio, you will have the opportunity to captivate our audience with your unique style and musical taste. Your role is to create an enjoyable and engaging listening experience during the critical 4-7pm time slot, Monday to Friday. You can choose to work from our studio in Wolverhampton City Centre or broadcast remotely.
Key Responsibilities:
- Hosting the Drivetime show from 4-7pm, Monday to Friday.
- Selecting and curating music playlists that align with our station's vibe and audience.
- Engaging with listeners through live interactions, dedications, and shout-outs.
- Delivering entertaining and informative content, such as news updates and community announcements.
- Adhering to station guidelines and maintaining a professional on-air presence.
Qualifications:
- A deep passion for music and the ability to select and present music across various genres.
- Excellent communication skills and a charismatic on-air presence.
- An understanding of the Drivetime audience and their preferences.
- Flexibility to work from our studio in Wolverhampton City Centre or remotely.
- Previous radio experience is a plus but not required.
Why Volunteer with Gorgeous Radio:
- Gain valuable experience in the world of radio broadcasting.
- Showcase your talent to a dedicated and growing audience.
- Become a part of a passionate and creative team.
- Opportunity for remote broadcasting if preferred.
- Contribute to your community through music and entertainment.
This volunteer position is perfect for aspiring presenters looking to enhance their skills and make a positive impact on the airwaves.
If you're prepared to become a Drivetime Presenter for Gorgeous Radio and contribute to the world of broadcasting, kindly send your CV, a demo, and a short description of yourself, including your interest and availability, to jobs@gorgeous.radio
We look forward to welcoming you to the Gorgeous Radio family and sharing your passion for music and community with our listeners!
Gorgeous Radio is an equal-opportunity organization. We welcome applications from all qualified individuals.
Tuesday, October 3rd, 2023 - 12:43pm - Author: Gorgeous Radio